TOKYO
, May 26 (NHK) –
Japan's top government spokesperson says Prime Minister Kishida Fumio has reprimanded his secretary and son Shotaro over reported merrymaking in the leader's official residence.
Chief Cabinet Secretary Matsuno Hirokazu commented at a news conference on Thursday about an online article of the Shukan Bunshun weekly released the previous day.
The article said Kishida Shotaro, who serves as the prime minister's secretary, held a year-end party with his relatives at the living quarters adjacent to the prime minister's office in December.
The younger Kishida and the participants reportedly frolicked and took photos in a room that is used to receive foreign dignitaries.
The report also said they held a mock news conference, and a participant was photographed lying on a staircase in the residence.
…continue reading
---

G7 spouses experience traditional culture
News On Japan – May 22
Spouses of the leaders who participated in the G7 Hiroshima Summit visited the 400-year-old "Shukkeien Garden" in Hiroshima, which has a history going back 400 years.

Wearable binoculars gifted to G-7 spouses by Japan PM's wife
Kyodo – May 22
Yuko Kishida, the wife of Japanese Prime Minister Fumio Kishida, has gifted pairs of wearable binoculars to the spouses of the leaders of the Group of Seven countries and international organizations who attended the G-7 summit that concluded Sunday in Hiroshima, according to the Japanese Foreign Ministry.

G7 ends with Ukraine in focus as Zelenskyy meets world leaders
taiwannews.com.tw – May 21
Ukrainian President Volodymyr Zelenskyy huddled with some of his biggest backers as the Group of Seven summit closed in Hiroshima on Sunday, building momentum for his country's war effort even as Russia claimed a symbolic victory on the battlefield.

G7 summit communique stresses rules-based international order
NHK – May 21
Leaders of the Group of Seven nations have issued a communique stressing their commitment to reinforcing free and open international order based on the rule of law, continued support for Ukraine, and work towards a world free of nuclear weapons.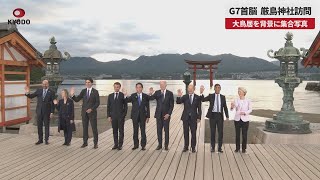 G-7 leaders visit World Heritage shrine, dine at traditional inn
Kyodo – May 20
The leaders of the Group of Seven industrialized nations visited a small island in Hiroshima Bay containing a world heritage shrine and sat down to a working dinner at a traditional hot-spring inn there at the end of the first day of their summit Friday.
Politics Page: 1 | 2 | 3 | 4 | 5 | 6 | 7