NHK has learned that nine people were injured in a strong earthquake in northeastern Japan on Saturday.

The figure as of 11 a.m. Sunday was obtained from police, firefighters and municipal officials.
The quake registered an intensity of 5-plus on the Japanese seismic scale of zero to 7 in Miyagi Prefecture.
In the city of Shiogama in the prefecture, which had jolts with an intensity of 4, workers are trying to remove mud and mortar from a public road in the rain.
Footage from a dashboard camera near the site shows a cliff collapsing immediately after the quake.
The owner of the camera said he was too nervous to sleep. He said he is worried that the rain and aftershocks may cause further landslides.
City officials say there have been no reports of injuries from the landslide.
– NHK
---
Mar 22
Police in Nagoya have arrested a 48-year-old woman and her 26-year-old son on suspicion of killing the woman's 54-year-old husband.
(Japan Today)
Mar 22
Police in Higashi-Osaka have arrested an 18-year-old high school student on suspicion of violation of the Swords and Firearms Control Law and interfering with a police officer in the performance of his duty after he threatened an officer with a knife in a koban (police box).
(Japan Today)
Mar 22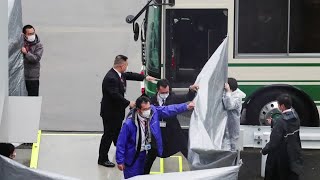 Surveillance camera footage submitted to a US court indicates that one of the two men who were arrested on suspicion of helping former Nissan chairman Carlos Ghosn escape from Japan met with his daughter at a Tokyo hotel on the day of the escape.
(NHK)
Mar 22
In Japan, the state of emergency for Tokyo and three surrounding prefectures expired at the end of the day on Sunday.
(NHK)
Mar 22
The number of suicides in Japan has topped 21,000 in 2020, the first year-on-year increase since 2009, the year after the global financial crisis triggered by Lehman Brothers' bankruptcy.
(NHK)
Mar 22
Prime Minister Suga Yoshihide says he will work to further strengthen Japan's alliance with the United States when he visits the country early next month.
(NHK)
Mar 22
Tokyo and the IOC won't allow oversea spectators to attend the summer games. What does this mean for tourism before and after?
(ONLY in JAPAN)
Mar 22
NHK has learned that nine people were injured in a strong earthquake in northeastern Japan on Saturday.
(NHK)
Mar 21
A decision has been made to bar overseas spectators from the Tokyo Olympic and Paralympic Games this summer due partly to the unpredictability of coronavirus variants.
(NHK)
Mar 20
A magnitude 6.9 earthquake hit northeastern Japan on Saturday evening. Officials in Miyagi Prefecture say some people are injured. A tsunami advisory was issued for the prefecture, but it was lifted after about an hour and a half.
(NHK)
Mar 20
This is an unboxing of the Japan Tokyo Metropolitan Government's Covid Quarantine Care Package sent to Infected people.
(Paolo fromTOKYO)
Mar 20
Despite the COVID-19 state of emergency for Tokyo and three neighboring prefectures no longer being in effect from Monday, strict entry restrictions at airports and ports will continue to be in place, with no indication of when they will be eased.
(Japan Times)
Mar 20
Shizuoka Prefectural Police arrested a 33-year-old man for allegedly kidnapping a middle school girl whose body was found inside a tent in a mountainous area of Hamamatsu City on Wednesday, reports Fuji News Network
(tokyoreporter.com)
Mar 20
Tokyo Metropolitan Police have arrested a male Vietnamese national over the alleged possession of 1 kilogram of marijuana in Shinjuku Ward, reports TBS News.
(tokyoreporter.com)
Mar 20
Osaka Prefecture in western Japan plans to check the body temperatures of shinkansen bullet train passengers arriving from the Tokyo metropolitan area for about three weeks starting on Monday.
(NHK)
Mar 20
Japan's government is scaling back its use of the popular messaging app Line and investigating how it is employed across municipalities, as the service comes under scrutiny over data security.
(Nikkei)
Mar 20
The proportion of job-seeking university students in Japan graduating this month who had secured informal job offers as of Feb. 1 fell for the first time in 10 years, a government survey showed Friday.
(Japan Times)
Mar 20
Nissan Motor has suspended operations at three factories in North America, the automaker said Friday, as a lack of crucial semiconductors stymies production.
(Nikkei)
Mar 20
The Bank of Japan on Friday tweaked its policy framework to continue with monetary easing in more sustainable and effective ways as economic recovery from the pandemic is still nascent and its inflation target is far off.
(Kyodo)
Mar 19
Japanese Prime Minister Yoshihide Suga confirmed Thursday that the government will lift the coronavirus state of emergency in Tokyo and three surrounding prefectures on Sunday, although restrictions on hard-hit restaurants and bars will remain in place.
(Nikkei)
---