More than 30,000 Japanese remain displaced after a major earthquake and tsunami struck northeastern Japan 12 years ago on Saturday, even as some of the worst affected areas reopen to former residents.

As of February, 30,884 people who were evacuated following the disaster and subsequent meltdown at the Fukushima Daiichi nuclear power plant still could not return home. This included 20,000 former residents of Fukushima prefecture who now live elsewhere.
The death toll from the earthquake stood at 15,900 as of March 1. Another 2,523 remain missing. This was the first year since the disaster in which no new bodies were found or a missing person identified.
Japan is decontaminating six towns and villages near the Fukushima Daiichi plant ahead of the rest of the area to serve as hubs for its revival. The government lifted evacuation orders in three of them last year, including the town of Futaba, allowing residents to return.
…continue reading
---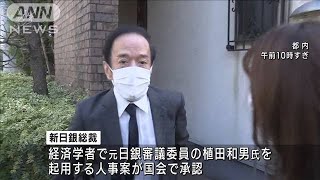 Japan parliament endorses Kazuo Ueda as next BOJ governor
Nikkei – Mar 10
Japan's parliament on Friday approved academic Kazuo Ueda as the next Bank of Japan governor, entrusting him with the formidable task of minimizing the side-effects of the central bank's protracted monetary easing and preparing the ground for an exit strategy once its inflation target is within reach.
Society Page: 1 | 2 | 3 | 4 | 5 | 6 | 7