With its enormous cities and towering skyscrapers brightly clad in neon lights, Japan is a fun country to visit, full of history and with a rich cultural heritage.

Temples and shrines dot its streets, while world-class restaurants rub shoulders with ancient castles and imperial palaces, and its cities bustle with life and energy. Japan is a warm, welcoming and endlessly interesting travel destination with something for everyone.
Nov 28
Japanese Foreign Minister Motegi Toshimitsu says business travel between Japan and China will resume on Monday.
(NHK)
Nov 28
Bars, karaoke lounges and restaurants serving alcohol in parts of the city of Osaka began operating under shorter hours Friday, a day after the prefecture saw a record daily total of 12 deaths due to COVID-19.
(Japan Times)
Nov 28
With its enormous cities and towering skyscrapers brightly clad in neon lights, Japan is a fun country to visit, full of history and with a rich cultural heritage.
(touropia)
Nov 27
Japan's transport ministry has asked taxi drivers to use the fresh air mode of their vehicles' air conditioners to reduce the risk of coronavirus infection. It also requested that they wear masks and ask passengers to do the same.
(NHK)
Nov 26
Welcome to Tokorozawa! This town about 30 minutes from Central Tokyo is where you'll find some of the coolest manhole covers in the world.
(ONLY in JAPAN * GO)
Nov 25
Pull back the curtain on Kamiyama, a mountain village in Tokushima Prefecture undergoing a quiet transformation as a hub for technology companies, sanctuary for traditional performing arts, living workspace for international artists and checkpoint for religious pilgrims.
(NHK WORLD-JAPAN)
Nov 25
Data from mobile phones show that during a three-day holiday through Monday, bigger crowds were seen at some tourist destinations near Tokyo than before the coronavirus outbreak.
(NHK)
Nov 24
Japan will exclude Sapporo and Osaka from its domestic travel subsidy campaign for three weeks due to a recent resurgence in coronavirus cases in the two popular tourist destinations, senior government officials said Tuesday.
(Kyodo)
Nov 24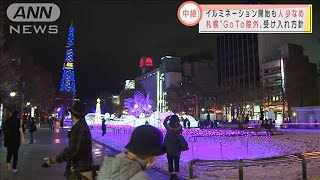 Hokkaido and its capital are making preparations to suspend new bookings for Sapporo under the state-run Go To Travel subsidy program given the high number of coronavirus cases there, local government sources said Monday.
(Japan Today)
Nov 23
On this a three-day holiday weekend here in Japan, plenty of people have been venturing out and traveling, despite the risks of coronavirus infection.
(NHK)
Nov 23
Japanese Capsule Hotels are an experience everyone needs to have. (Only once).
(Abroad in Japan)
Nov 21
Take in the rugged beauty of Aomori Prefecture's Hakkoda mountains, an endless winter landscape blanketed in powdery white snow, making it a haven for backcountry skiing. See why travelers from around the world have fallen under the spell of this awe-inspiring area.
(NHK WORLD-JAPAN)
Nov 19
The Resort Shirakami runs on the Gono line through the stunning seaside scenery of Shirakami-Sanchi, a World Heritage Site.
(ONLY in JAPAN * GO)
Nov 18
The Japanese unit of Malaysia's budget airline AirAsia Group said Tuesday it has filed for bankruptcy due to the impact of the coronavirus pandemic on travel demand, with a lawyer saying the unit is unable to refund around 23,000 air tickets.
(Kyodo)
Nov 15
Soak up the warm atmosphere of Beppu, Oita Prefecture's renowned hot spring town shrouded in steam and overflowing with hospitality. Discover the healing properties of onsen that go beyond the physical benefits of bathing in mineral-enriched water.
(NHK WORLD-JAPAN)
Nov 14
Officials at Japan's main international gateway are preparing to take delivery of some eagerly awaited cargo.
(NHK)
Nov 14
Discover some of the traditional sweet treats enjoyed in Kyoto, the former ancient capital of Japan.
(NHK WORLD-JAPAN)
Nov 13
East Japan Railway Co. (JR East) said Tuesday that it will run a reward point program for a year from next spring to further promote staggered commuting.
(Japan Times)
Nov 11
As coronavirus cases surge in a number of places in Japan, most notably Hokkaido in the far north and Tokyo, the government's task force on the pandemic has warned that more needs to be done to head off a deeper crisis in the coming winter months.
(scmp.com)
Nov 11
JR East has a new pass! It's saved me $500 so far on Shinkansen travel and it's available for non-Japanese passport holders living in Japan!
(ONLY in JAPAN)
---